---
Troop D318 is Waiting
WHO? D318 is the number of the Inland Northwest Council's contingent troop that will be headed to the 2013 National Jamboree next July.
Are you in?
Check out this quick video to see what is in store for Troop D318.
Scout Attendance Qualifications
Here is what it takes:
· A Scout must first be approved by his Scoutmaster or Varsity Scout coach and the local council jamboree committee.
Other requirements:
· Each Scout must be at least 12 years old by July 12, 2013 or have completed the sixth grade by July 1, 2013.
· His 18th birthday must not be before July 26, 2013.
· The Scout must be active in his troop for at least six months prior to July 1, 2013.
· He must be a First Class Scout by July 12, 2013.
· The Scout must participate in all pre-jamboree training experience.
· Each Scout must file a personal health and medical record form before that training event.

Cost and Payment Schedule
The cost for each Scout attending has been reduced from $2,395 to only $1,995 plus airfare. The cost includes the jamboree fee, tour costs, meals, lodging, unit and patrol equipment, accident and sickness insurance, and the cost of pre-jamboree training. Contact the council office for current payment plan information.
The Jamboree Tour
Before the jamboree you'll travel around the area visiting attractions in the Washington D.C. area. Scouts will have a tour before the Jamboree and a day and a half of tours after the Jamboree.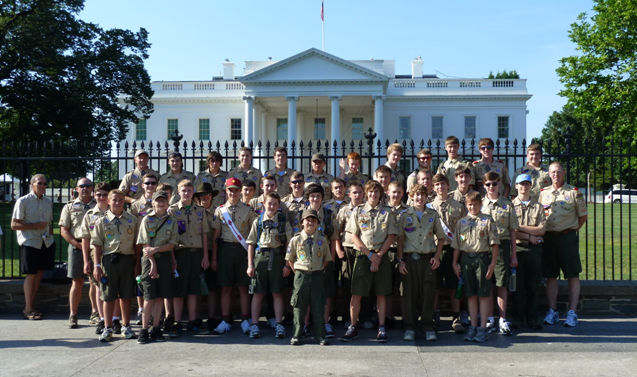 Sites in Washington D.C include Arlington National Cemetery, the Smithsonian museums, Washington Monument, Lincoln Memorial, Monticello, Air and Space Museum, the White House and much more! The tour ends with a trip to Water Country USA and Colonial Williamsburg after the Jamboree.
How Do You Sign Up?
1. Go to www.bsajamboree.org
2. You will be asked to create a Summit login acctount to be able to register for the Jamboree.
3. Now you can create an online application. When submitting, the applicant will be asked to pay a $10 processing fee payable by credit/debit card only. The $10 processing fee is nonrefundable.
4. All youth applicants will be instructed to print their confirmation, have it signed by their Scoutmaster, and take the signed document and a $100 deposit to one of the Inland Northwest Council's three Scout Service Centers.
NOTE: This confirmation does not guarantee a spot in a council jamboree troop. The local council will make that determination.
Check out this great video that the Denver Area Council put together.
Jambo Troop D318 Leadership
Scoutmaster
Bruce Hotchkiss
(509) 570-6499
hotchbl@msn.com
Assistant Scoutmaster
Brooks Howard
(208) 791-7687
brooks.howard@clearwaterpaper.com
Assistant Scoutmaster
Paul Jensen
(509) 370-4036
jaypauljensen@hotmail.com